Bike Routes in Litchfield County (CT) and Berkshire County (MA)
The Upper Housatonic Valley (portions of Litchfield County, CT and Berkshire County, MA) is ideal for bicycle riding. Enjoy these bicycle routes in Litchfield County, CT and Berkshire County,  MA.  You may also view, print and download these bike routes for a great experience.
---
MASSACHUSETTS – here are five scenic bicycle routes in Berkshire County: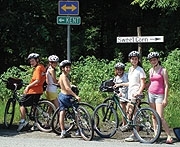 The Berkshire Bike Route Brochure (all 5 towns included) is available here:
Riding with GPS?  Download the Berkshire bike routes directly to your device:
---
CONNECTICUT – We've been working on bike routes throughout Northwestern Litchfield County of CT. The Housatonic Covered Bridge Trail (HouBike Trail) brochure and map is available at town halls, libraries and other public places throughout the region.
Download HouBike Maps
There are many area bike routes to enjoy.  The 45-mile HouBike Trail is divided into 10 segments so that you can easily download just the segment(s) that you'd like.  Each PDF map will print nicely on an 8.5 x 11 sheet of paper.
CT HouBike Route Downloads:
Prefer just the detailed map?  Here are PDF maps of trail segments, but without any of the turn-by-turn directions…
Salisbury – Sharon, CT – Enjoy these four cycling loops in and around Salisbury and Sharon.
Kent, CT – Great bicycling for all generations, with a choice of five separate loops
We also have the Kent Bike Routes fully mapped in one brochure:
Visit www.HouBikeWalk.org for a complete list.
---
Bike Rentals in Berkshire County
Berkshire Bike and Board
M-F 10-7, Sat 10-5, Sun 11-5
29 State Rd
Great Barrington, MA 01230
Phone: 413-528-5555
Fax: 413-528-1776
www.berkshirebikeandboard.com
Bike Rentals in Litchfield County
The Bicycle Tour Company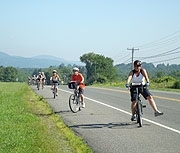 9 Bridge St.
PO Box 381
Kent, CT 06757
TEL – 888-711-KENT
FAX – 860-927-1976
Email: INFO@BICYCLETOURS.COM
Website: www.bicycletours.com
Bike Rentals in NY State (nearby)
Rail Trail Supply Co.
14 Main Street / PO Box 543
Millerton, NY 12546
518-789-0151
www.railtrailsupply.com
www.facebook.com/railtrailsupply
Bash Bish Bicycle
247 Rt. 344
Copake Falls, NY
518-329-4962
www.bashbishbicycle.com