Local Heritage Lab –
Professional Development for CT Teachers
Place-based heritage education for teachers and students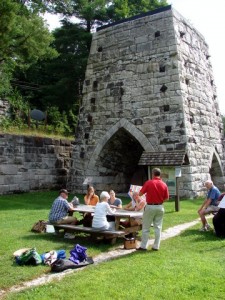 Housatonic Heritage is again partnering with Regional School District No. 1 and the Friends of Beckley Furnace to present an exciting new approach to place-based education for teachers and students. Local Heritage Lab provides teachers with the opportunity to immerse themselves in personal exploration and learning at the Beckley Furnace Industrial Heritage Site in East Canaan, CT and to work with their colleagues, content experts, and education advisors in developing place-based, inquiry-focused learning opportunities for their students.
For The 2023-24 School Year
August date TBD + 3 PD sessions during the 2023-24 academic year (PDF Flyer)
Housatonic Heritage is pleased to invite 2nd – 12th grade teachers from CT Regional School District #1 to participate in the eighth year of our place-based professional development program. Local Heritage Lab provides teachers with opportunities to immerse themselves in personal learning at local heritage sites and to collaborate with colleagues in designing skills-based, inquiry-focused learning opportunities for their students using community resources
Get three free field trips with bus transportation to related heritage sites in 2024.
Get three half-day PD releases during the 2023-24 academic year.
Receive a $350 stipend for completion of program.
This program consists of four core activities:
1) Summer Immersion Experience – August date TBD
Based at the Beckley Furnace State Industrial Monument in East Canaan, teachers explore the site's unique landscape, structures, artifacts, and documents and experiment with historical and pedagogical methodologies for learning in heritage sites settings.
2) Heritage Site Field Visits (release time has been authorized by Region 1 administration) October 2022, January & April 2023
Three half-day heritage site field visits to explore new content, resources, and teaching strategies and collaborate in developing curriculum- and standards-aligned fieldtrip learning experiences for students.
3) Virtual Peer Feedback Sessions – December 2023, March & June 2024
Three short virtual sessions to stay connected between in-person gatherings and share progress, solve problems, and request support and/or additional resources to support lesson and field trip planning.
4) Lesson Implementation and Student Field Trips
Teacher implementation of lessons/activities, including up to three student field trips to heritage sites that have been previously visited as part of the Local Heritage Lab.
To learn more or to enroll, contact Elisabeth Nevins, Coordinator: enevins@seed-ed.com
---
About the Pilot Program
In 2014, with funding from CTHumanities, Housatonic Heritage worked with area teachers to explore alternative models of teacher engagement. The result of this planning process was the development of the Local Heritage Lab model to be piloted during the 2015-16 school year.
The Local Heritage Lab model was shaped by input from the planning process indicating that:
heritage sites possess extraordinary educational resources but often lack the educational expertise to create meaningful and useful learning experiences for school audiences—particularly as curriculum standards evolve at such a rapid pace.
teachers are more likely to build lessons around and bring their students to a particular heritage site if they have developed a personal connection to that place and it is convenient and easy to work with site staff to co-create relevant learning experiences for students.
the professional development experience should begin with opportunities for teachers to immerse themselves in personal exploration and learning at the heritage site and to explore new historiographical approaches to uncovering and interpreting the past.
support and learning for teachers must continue throughout the school year with a series of professional development sessions that allow teachers to work together, with support from outside experts, to develop and implement curriculum-aligned learning experiences at the heritage site for their students.
---
2015-16 Pilot Program Activities
The pilot program includes three core activities:
Summer Immersion Experience | July 27-29, 2015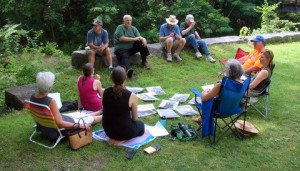 Teachers explore the Beckley site's unique landscape, structure, artifacts, and documents.
Sessions focus on historical methodologies and place-based learning pedagogy for exploring heritage sites.
Coaching and Peer Feedback Sessions | November 17, 2015 & TBD
Three half-day coaching and peer feedback sessions to support teachers in creating learning experiences for their students exploring Beckley Furnace.
Lesson Implementation and Student Field Trips | TBD, Spring 2016
Teacher implementation of lessons/activities, including student field trips to Beckley Furnace.
Pilot Program Update: September 2015
The LHLL Summer Immersion experience was held at The Beckley Furnace Industrial Heritage site on July 27-29, 2015. Four teachers from Regional School District No. 1 participated in the immersion experience pilot, which was facilitated by heritage education and interpretation consultants Elisabeth Nevins and Rainey Tisdale. Ed Kirby, Dick Paddock, and Geoff Brown of the Friends of Beckley Furnace served as hosts and content experts during the three-day experience.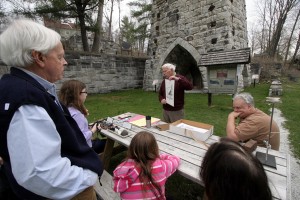 The pilot immersion program was structured to encourage personal, sensory, and inquiry-based exploration of the Beckley site. Activities included a solitary sensory immersion experience, geocache exploration of the site in pairs, landscape-reading walk along the Blackberry River, geology and natural resources presentation, and artifact and architecture examination. Participants completed readings and reflection pieces each night for group discussion the next day.
Feedback was collected from the teacher participants and was generally very positive. Though some were skeptical of the amount of time spent on seemingly simple topics or activities, the depth of insight gained was eye-opening.
"I thought the pacing was great…even the things that I thought "were taking too long" (examining the ore cart) turned out to be really fascinating."
Others appreciated the order of the activities and the building of layers of understanding and insight over the course of the three-day experience.
"[The] notion of starting with the self and what one can sense of place, then moving to partner work via geocache and questioning with the group before "experts" reveal information was a great progression."
This feedback will be used to further refine the immersion experience component of the LHLL program.
Look for another update in late November after our first Coaching and Peer Feedback session. We want to carry the spirit of inquiry forward from the summer and will be meeting at the Bebee Hill Schoolhouse where the teachers will begin developing their student learning experiences.
Pilot Program Update: December 2015
On November 17—a beautiful autumn afternoon—the LHLL teacher cohort gathered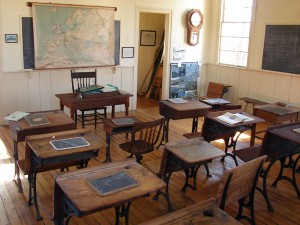 at the Beebe Hill School House along with heritage education consultant Elisabeth Nevins, Lou Bucceri of Housatonic Heritage, and Lillian Lovett of the Falls Village–Canaan Historical Society.
The afternoon began with an inquiry activity in the school house, with teachers generating questions about space, writing them on sticky notes, and attaching them to the objects the questions referred to. The exercise helped illuminate the "hot spots" in the room that the group was curious about. A conversation followed, with Lillian Lovett answering questions and sharing stories and resources about Beebe Hill with the teachers.
The focus then shifted to concrete thinking about the kinds of learning experiences the teachers wanted to create for their students using the Beckley Furnace site and other area heritage resources. The group generated exciting ideas for student learning and did some concrete planning around logistics and timing.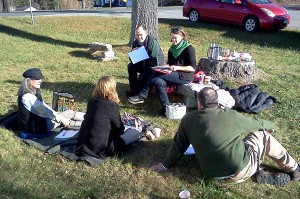 The teachers (and facilitators!) left inspired and energized and recently shared their draft activity plans with one another, including lists of resources from Beckley and other local history organization that they will need for their lessons. Lou Bucceri is working with the Friends of Beckley Furnace and others to help identify and make these resources available.
The group will reconvene in February 2016 at the Salisbury Association for the second of the three coaching and peer feedback sessions. Look for another project update in March 2016.
Pilot Program Update: March 2016
On February 19 the LHLL teacher cohort and project team members met at the Salisbury Association's Academy Building. Upon arriving, the teachers were sent back out into the cold to create a map of Main Street and generate questions based on their observations. The group returned to the warmth of the Academy Building's second-floor research room to compare the information they had recorded and to consider how personal or professional experiences influence what someone notices in exploring a new landscape—or in taking time to look more closely at a familiar one.
After examining some historic maps of Salisbury's Main Street, Lou Bucceri, Chair of the Salisbury Association Historical Society and History Alliance Coordinator for Housatonic Heritage, gave the group a tour of the Association's collections and other resources that are available for use by teachers and researchers. Of particular interest were binders archiving images of and research notes from the history exhibits mounted by the Historical Society over the years.
Members of the Friends of Beckley Furnace joined the group and discussion turned to the nitty-gritty of gathering materials—from limestone and iron ore to laminated maps and images—to be included in resource kits for the teachers to use in their classrooms. And preliminary plans were made for student fieldtrips in late May or early June.
The group will be meeting in early April 2016 at Trinity Lime Rock to explore how the iron industry shaped the Lime Rock community and to work collaboratively in planning their classroom fieldtrips to Beckley Furnace later in the spring.
---
The Upper Housatonic Valley Experience
The Upper Housatonic Valley Experience was our very first 'heritage immersion' course, exclusively for local educators.
Though the program was discontinued, you'll find additional details of the program are here.
'The Upper Housatonic Valley Experience is an intense, condensed immersion program in the region's history, culture, environment and economy. This annual, Masters-lavel for-credit summer class develops curricula for area schools, classroom teaching materials and funding opportunities for field trips and student outings during the school year.'