The Immortal Words of James Mars, Freedman
James Mars sat at his desk in 1863, prepared to write his autobiography. Few Black men escaped slavery, and fewer still wrote books about it. Yet Mars knew that his task was important. As time passed on, fewer people remembered that slavery once existed in Connecticut. Fully understanding the significance of his work, Mars got to work.
James was born in Canaan, Connecticut to Jupiter Mars and his wife in 1790. James spent his childhood working on Reverend Amos Thompson's farm in Canaan. Meanwhile, Thompson stayed with his wife in Virginia. Eventually, the Thompsons decided to sell their northern farm and permanently move to Virginia. This prompted Jupiter to formulate an escape plan. After all, relocating to the South would doom them to a lifetime of slavery. Life in Connecticut still had hope thanks to the 1783 Gradual Abolition Act. This law determined that all future children born to enslaved parents would be freed in their early twenties.
Jupiter and his family fled to Pettibone's tavern in nearby Norfolk. Locals ushered them to various safehouses to keep Thompson off their trail. One day while James retrieved water outside, Reverend Robbins of Norfolk began interrogating him. The Mars family soon learned that Robbins was a friend of Thompson. Knowing their location was compromised, the family escaped into the woods. From this point, the family alternated from living in the forest to sheltering with their allies.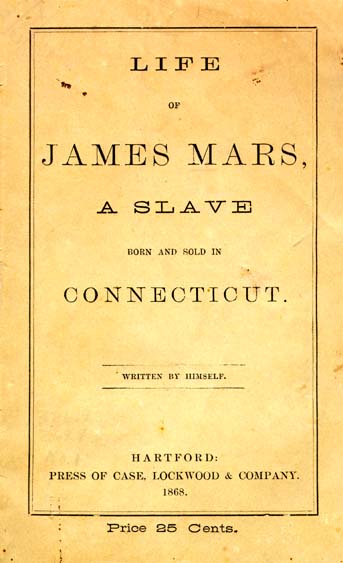 Eventually, Thompson ran out of patience. He freed Jupiter, his wife, and their daughter, but legally sold James to Mr. Munger of Norfolk and Joseph to Mr. Bingham of Salisbury. James recalled feeling distraught on that day. He wrote that "Tears ran down my cheeks. I then felt for the first time that I was alone in the world." But his morale improved after learning his family had moved to Norfolk. Still, Mr. Munger was violent. He also forced James to do hard physical labor. Eventually, James fled to his parents' home. A jury determined that Mars could secure his freedom by paying Munger $90.
After earning his freedom, Mars spent some time "out west." He then reconciled with Mr. Munger before Mars, his wife, and their children moved to Hartford. Here, James became a leader among the Black community. He served as a deacon for the Talcott Street Congregational Church and assisted in the Jackson v. Bulloch case of 1837. Sixteen years later, Mars and his family moved to Pittsfield, Massachusetts. After his wife died and his eight children grew up, James moved back to Norfolk in 1864. Here, he wrote his autobiography. James Mars passed away in Ashley Falls, Massachusetts, in 1880.
Life of James Mars: A Slave Born and Sold in Connecticut provides a firsthand account of Northern slavery. It reminds readers that not all Americans were free and that slavery was a complex institution. James Mars's tale is a crucial record of what life was like for Black Americans in the Antebellum North.
More inspiring 'American Stories' from the Upper Housatonic Valley National Heritage Area are at: https://housatonicheritage.org/american-stories.