Catharine Maria Sedgwick's Mighty Pen
Catharine Maria Sedgwick wrote "As slaves must be trained for freedom, so women must be educated for usefulness, independence, and contentment in single life." Sedgwick herself lived according to this dogma. Throughout her career, the independent author's stories shaped American literature and society.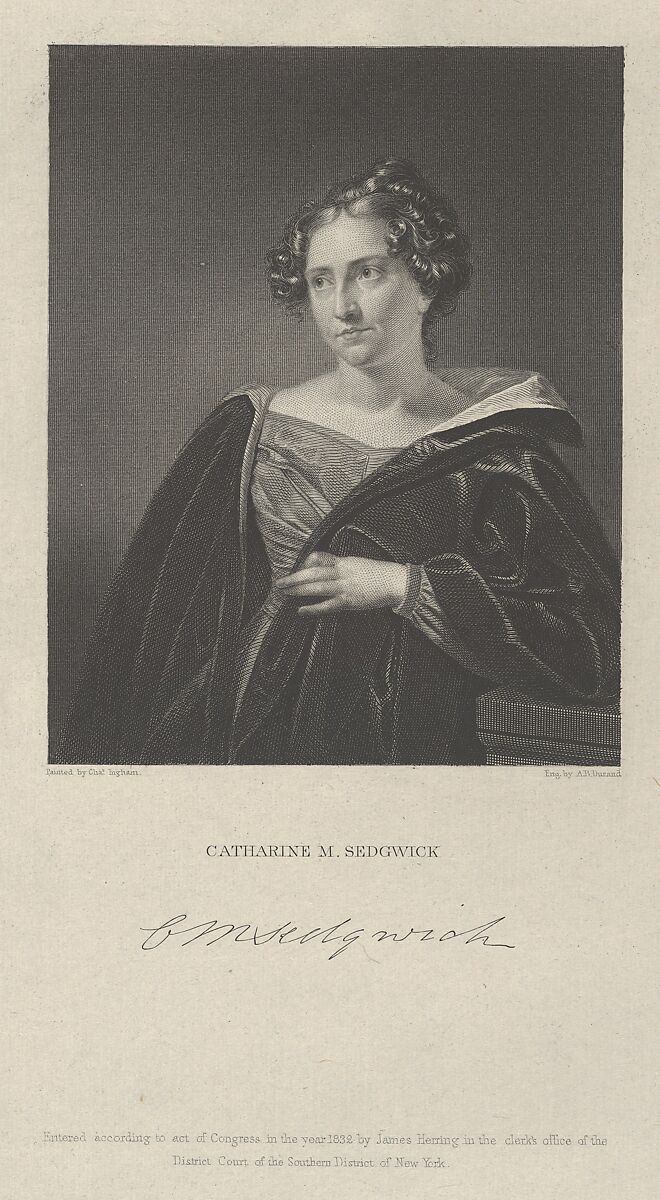 Catharine Maria Sedgwick was born to Theodore and Pamela Sedgwick in 1789. Elizabeth Freeman raised her at the family's home in Stockbridge, Massachusetts. Catharine was very close to her older sisters, Eliza and Frances. Their departure after marriage devastated their younger sister. She later recalled that "a wedding was rather a sundering than a forming of ties." Her four brothers remained her closest companions. Theodore, Henry, Robert, and Charles provided Catharine with a lifetime of support.
Young Catharine loved to read. This later sparked her passion for writing. Over time, she became a strong, motivated, and passionate author. Her brothers recognized her literary genius. In the 1820s, they convinced their apprehensive sister to contact publishers. With this encouragement, Catharine published A New-England Tale in 1822. From this point forward, her career blossomed. Over time, Sedgwick wrote nine more novels. Audiences adored Redwood, Hope Leslie, Clarence, The Linwoods, Home, The Poor Rich Man and the Rich Poor Man, Live and Let Live, The Irish Girl and Other Tales, and Married or Single? Sedgwick also published hundreds of short stories, children's stories, and novellas. These works won widespread praise. As early as 1827, Sedgwick acknowledged her growing fame with a mixture of surprise and cautious optimism. In 1837, she again wrote of the "flattery, the praise, the fame" she received throughout her career.
During this time, politics excluded women. Yet Sedgwick used her characters to comment on national affairs. Her works showcased strong female leads, such as Hope and Magawisca from Hope Leslie. In Married or Single? Sedgwick also destigmatized single women. She emphasized that women could lead happy and fulfilling lives without husbands. As she wrote, "Marriage is not essential to the contentment, the dignity, or the happiness of woman." Similarly, she discussed politics in stories such as A Reminiscence of Federalism. Through this narrative, she commented on various politicians and political parties. As such, Sedgwick demonstrated that women could share valuable commentary.
Sedgwick affected the outside world in multiple ways. In 1828, she moved to Lenox, Massachusetts to teach at her sister-in-law's school. She also served as the Women's Prison Association of New York's first director from 1854 to 1867. Additionally, Sedgwick founded the Society for the Aid and Relief of Poor Women. Overall, she used her influence to aid women from a variety of backgrounds.
Catharine Maria Sedgwick died on July 1, 1867, at her niece's home in Roxbury, Massachusetts. Her body was brought back to Stockbridge, where she was buried in the Sedgwick family plot. The nation mourned her death, but her literary accomplishments faded over time. In the 1970s, scholars rediscovered her works and contributions to American literature. Today, modern audiences appreciate Sedgwick's remarkable writing and accomplishments for women.