Publications from around the Upper Housatonic Valley National Heritage Area
Looking for more in-depth information about the special places, people and themes of the Upper Housatonic Valley?  check out these publications from Housatonic Heritage and our partners…
---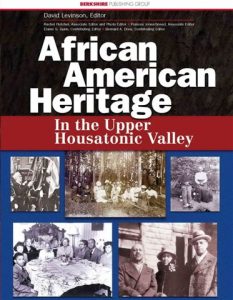 African American Heritage in the Upper Housatonic Valley
A Unique Resource for Teachers – Students – Tourism–Regional History – Community Studies
Tucked away in western Massachusetts and northwestern Connecticut is a treasured place. Bound on the east by the Berkshire Hills and on the west by the Taconic Range, the Housatonic River gives it life. This place has played a pivotal role in the political, religious, industrial, and cultural history of the region and the nation. What has largely gone unrecognized until now is a rich history of African Americans who played pivotal roles in key national and international events and made significant contributions to our culture. African American Heritage in the Upper Housatonic Valley presents this great heritage, telling the stories of the Black luminaries who have lived in the area—W.E. B. DuBois, James Weldon Johnson, to name but a few—and detailing the life and times of the many ordinary yet extraordinary African Americans who have made their mark in the region from the 1700s to the present. The book is a guide to the people and places along the Upper Housatonic Valley African American Heritage Trail, encompassing twenty-nine Massachusetts and Connecticut towns in the Upper Housatonic Valley National Heritage Area.
Key Features
67 Articles on Business and Professional Life, Civil Rights and Social Action, Education, Military Service, Religion, and Society, Arts and Ideas
120 Photos and Illustrations
8 Original Maps
35 Primary Text Sidebars
Timeline of Regional African American History
Directory of Local and regional Resources
Trail Guides to 14 Communities
Massachusetts Communities: Gulf Road/Wizard's Glen, Pittsfield, Lenox, Lee, Stockbridge, Great Barrington, Sheffield
Northwest Connecticut Communities: Salisbury, Norfolk [Canaan], Sharon, Cornwall, Kent, Warren, Barkhamsted Lighthouse
David Levinson, editor
Rachel Fletcher, associate and photo editor
Frances Jones-Sneed, associate editor
Elaine Gunn, contributing editor
Bernard A Drew, contributing editor
First Edition.  2006
ISBN 1-933782-08-0 (alk. paper)
Price: $39.95
A project of the Upper Housatonic Valley National Heritage Area
Published by: Berkshire Publishing Group LLC
Currently Unavailable
---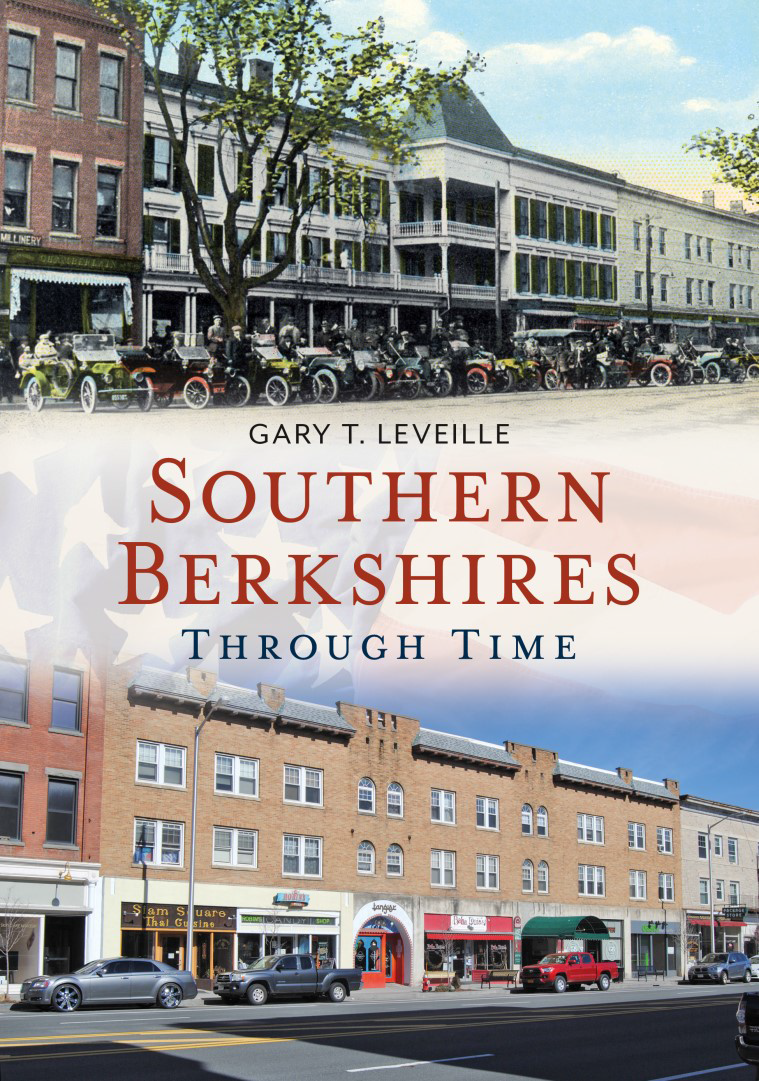 Past meets present in Southern Berkshires Through Time
Southern Berkshire County in Western Massachusetts is a magical place. Some call it "paradise," while others quietly claim it to be the center of the universe. The special synergy that exists here between people and place has inspired remarkable residents for centuries. Towns nestled among the majestic hills and scenic valleys are beautiful, fascinating, and filled with history.
Much has changed here over the past 150 years—the period covered photographically in this book. The classic beauty of the Southern Berkshires has drawn photographers since the camera was first invented. Vibrant villages have evolved over the decades, even as the surrounding scenery remains breathtaking. Once thriving textile mills have been replaced by innovative tech enterprises. The important paper industry has struggled but survived here. Year round recreational and educational opportunities have blossomed. Once bustling boomtowns have grown quieter, but now nurture entrepreneurial inventiveness and a magnificent menagerie of historic homes, prosperous farms, and top-notch cultural venues.
The images and interesting narrative inside this book offer a rare glimpse of the Southern Berkshires through time. By looking at the whole picture, the connections between our past and present will become apparent.
Gary Leveille is a writer, corporate editor, educator, photographer, newspaper columnist, humorist and local historian who happily resides in the Southern Berkshires. Gary has worked on numerous projects for Milton Bradley, Hasbro, Parker Brothers, Disney, National Geographic, Antiques Roadshow and many others. He is the author of several books including the best-selling Old Route 7 – Along the Berkshire Highway, and Legendary Locals of the Southern Berkshires.
Southern Berkshires Through Time
by Gary T. Leveille
ISBN: 978-1-6350-0073-3
$23.99 | 96pp. | paperback
This book is available at local bookstores and at Amazon.com, or to order from the publisher:
https://www.arcadiapublishing.com/Products/9781635000733
---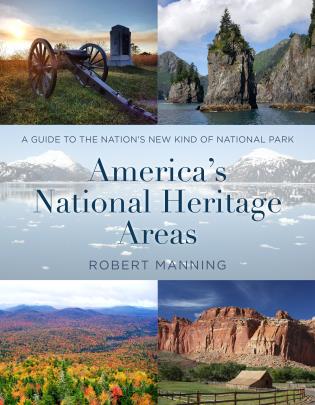 America's National Heritage Areas: A Guide to the Nation's New Kind of National Park
A guidebook to America's National Heritage Areas by Robert Manning.
There are fifty-five National Heritage Areas scattered across the US and they continue to grow in number and diversity. Though they're not officially national parks, their conservation, education, and recreation related objectives echo those of the national parks: to conserve nationally significant natural and cultural landscapes and to make them available to the public for purposes of education, recreation, and sustainable tourism-related economic development.
But the methods of achieving these objectives are different—very different—than those used in the national parks. While both national parks and NHAs are established by Congress, national parks are conventionally large areas of public land that are owned and managed by the National Park Service (NPS). NHAs take a more inclusive, partnership-based approach to their work; they offer local citizens, government at all levels, non-profit organizations, and private sector enterprises the opportunity to define, celebrate and conserve the natural, historic, cultural, scenic and recreational resources that have been vital in shaping their identity and destiny.
NHAs are composed primarily of private lands; they're living landscapes where participants reside, work and play. Each chapter in this guidebook describes the remarkable natural and cultural resources that define NHAs and highlights nearby visitor attractions, enticing readers to visit NHAs and to enjoy and appreciate the attractions offered.
The book is divided into two parts:
The first part describes the history and concept of NHAs with special emphasis on the ways in which NHAs support the conservation of important regions of the nation through innovative programs of heritage-based tourism.
The second and larger part of the book consists of descriptions of each of the 54 active NHAs, including representative visitor attractions.
It's important that the public learn more about NHAs and that they support this "new kind of national park"; the book is expressly designed to help with this. The accomplishments of each NHA are impressive, but the larger story of the national system of NHAs should be more widely known and appreciated.
The book can be ordered directly from Globe Pequot at the following link:

It can also be ordered on Amazon:

---
Local Resources for the Study of Regional African American History: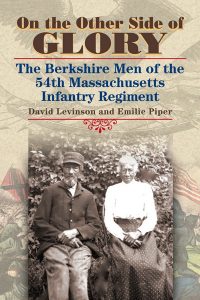 On the Other Side of Glory:
The Berkshire Men of the 54th
Massachusetts Infantry Regiment
by Emilie Piper and David Levinson
Published by Upper Housatonic Valley African American Trail
On the Other Side of Glory tells the stories of the African American men from western Massachusetts and northwestern Connecticut who chose to serve in the famous "Glory" regiment during the Civil War. The bravery of the men in their assault on Fort Wagner, South Carolina, on July 18, 1863, made it possible for tens of thousands of other African American men to join the fight to end slavery and win equality.
The heroism of the 54th Massachusetts Infantry is well known. Yet these men as individuals are long forgotten. For first time, the stories of these farmers, barbers, carriage drivers, entrepreneurs, and blacksmiths are made known. Moving from the farms of the Berkshires to the battlefields of the South, On the Other Side of Glory then returns to the North to explore how the war changed African American life in western New England. The authors describe how the wartime experience and full citizenship empowered the veterans and their neighbors to form new Black neighborhoods and communities in their towns and cities, build new churches, and honor their own heroes.
But the book also details the other side of glory. Their brave service and sacrifices did not bring the promised equality. The discrimination that defined African American–white relations before the war persisted during the war and continued after the men came home.
Paperback, 208 pages, 60 illustrations, bibliography, index.
Published by the Upper Housatonic National Heritage Area/African American Heritage Trail, 2011.
ISBN: 978-0-9845492-1-4. For more information: www.AfricanAmericanTrail.org.
Price $19.50
Order securely online with PayPal / Credit Card:
---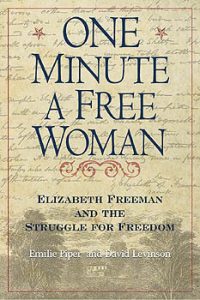 One Minute A Free Woman
Elizabeth Freeman and the Struggle for Freedom
Take a journey of heart and mind across time, place, families, and communities. Our journey focuses on the life of Elizabeth "Mumbet" Freeman, perhaps the best-known and most influential woman from the Berkshires. In 1781, seeing a contradiction between her enslavement and the quest for freedom being waged by the patriots in town against British rule, she sought her own freedom from Colonel John Ashley in Sheffield, Massachusetts. She won her lawsuit and helped end slavery in Massachusetts.
Although Black, a woman (pre–women's rights), unable to read or write, a slave, and, for much of her life, a servant, Freeman resisted being a victim. Instead she lived a full and rewarding life. She owned a small farm, supported her family, and cared for her friends and neighbors as a skilled nurse and midwife. Freeman's rich and complex life is the starting point for an exploration into the lives of other Black families and other Black communities as they formed and changed over time in towns such as Sheffield, Stockbridge, and Lenox, Massachusetts, and Norfolk, Connecticut.
"Many of the legends surrounding her life are examined and either corroborated or thoroughly discredited."
– Wray Gunn, Trustee, Clinton A. M. E. Zion Church and Past President, Sheffield Historical Society
"It is at once the most complete and the most authoritative of recent writings on this subject. . . ."
– Professor Frances Jones-Sneed, Department of History and Director of Women Studies, Massachusetts College of Liberal Arts
"Piper and Levinson have written an important book about the remarkable Elizabeth Freeman, . . . and significantly deepen our understanding of the African American community of Revolutionary New England."
– Professor Robert Paynter, Department of Anthropology, University of Massachusetts at Amherst
"Mumbet's life is fleshed out in detail that traces the legacy and lineage of a woman whose life touched and inspires many."
– Claudette Webster, Mt. Everett Regional High School, Sheffield, Massachusetts
Paperback, 272 pages, 50 illustrations, chapter endnotes, index.
Published by the Upper Housatonic Valley National Heritage Area /African American Heritage Trail, 2010,
ISBN: 978-0-9845492-0-7. For more information: www.AfricanAmericanTrail.org
Price: $24.50
Order securely online with PayPal / Credit Card: