About Ethan Allen
Most people identify Ethan Allen with Vermont. But Allen was actually a product of the Litchfield Hills in northwestern Connecticut, in the heart of the Tri-Corners region.
Ethan Allen was born in the village of Litchfield, Connecticut on January 10, 1738. He was the first child of Mary and Joseph Allen and they selected an ancient Hebrew name for him, meaning "strong." The name was prophetic.
At the time of his birth, northwestern Connecticut was still frontier wilderness country. There were no roads. In the center of the region was an ancient glacial river, called the Housatonic by Native Americans. The terrain was hilly and covered with rocks left behind when the glaciers melted.
When Ethan was still a baby, the legislature opened up the area north of Litchfield to settlement. New townships were laid out on the east side of the Housatonic, called Cornwall and Canaan. Across the river to the west were the new townships of Sharon and Salisbury. To encourage settlement of this rugged country, the government auctioned off inexpensive "rights" to the land, on the condition that persons who bought the rights must start clearing the land quickly or forfeit the property.
Ethan's parents bid on rights to two tracts of land in the township of Cornwall. They hoped to use one of the tracts to build a dwelling and barn and the other as "plow land" for planting grain.
Like most farming couples in the 18th century, Mary and Joseph Allen produced a large family to help with the chores. They named their eight children with biblical names: Ethan, Heman, Heber, Levi, Zimri, Ira, Lydia and Lucy. Thirteen years separated Ethan, the oldest, from the youngest, Ira, who was born in 1751. All of the children were spirited and full of fight. Ethan later referred to his younger brothers and sisters as the "Seven Devils."
Joseph Allen had to clear the land he planned to use as fields for his cows and planting, cutting down the thick growth of trees and moving the rocks, which he used to build stone walls. The children helped as much as they could. Ethan, being the oldest, did the heaviest work, and – true to his name – soon grew into a strong, strapping, muscular youth. From roughhousing with his brothers he learned how to be quick with his fists and feet.
The Allen farm prospered, and Joseph began to have dreams for his family. His oldest son, Ethan, would go to Yale College, he decided, an ambitious goal for the son of a frontier farmer.
In order to prepare for college, Joseph arranged for Ethan, who was then 17, to go to Salisbury a few miles away to study with the Reverend Jonathan Lee, a Yale graduate, who was pastor of the Congregational Church in Salisbury and was highly respected as a man of learning. In those days, the Congregational minister was the most important person in each town.
Ethan had barely begun his studies with Jonathan Lee, however, when his father unexpectedly died on April 14, 1755 and Ethan had to return home to take charge of running the farm.
For the next six years, Ethan ran the Allen family farm in Cornwall. For Ethan it was an opportunity to develop initiative and leadership skills. He not only was responsible for the welfare of h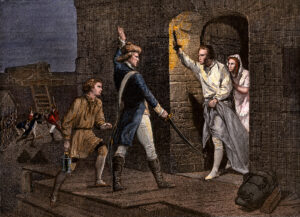 is mother but also his seven unruly younger brothers and sisters. In 1757, when he was 19, Ethan responded to a call for men to go to the rescue of Fort William Henry at Lake George, which was under threat of attack by the French and their Indian allies in the struggle known as the French and Indian War. His period of service was short and he soon returned to resume his duties at the family farm.
The Salisbury Furnace
By the time he reached 23, in 1761, his younger brothers were able to take over the farm and Ethan decided to strike out on his own and try his hand as an entrepreneur.
When Ethan was at Salisbury he learned of the rich lode of iron ore that had been found there, an entire hill of almost pure hematite, virtually free of impurities. The iron deposit, called Ore Hill, had been divided into eight parts, each owned by different proprietors. One share was owned by two brothers in Canaan, where they operated two iron forges, Samuel and Elisha Forbes.
Ethan realized that there was a great opportunity awaiting the person who could build a charcoal blast furnace in Salisbury to melt the iron ore so it could be cast into useful products and into iron bars to be hammered in the forges.
Everything that was needed for a blast furnace was right there in Salisbury: a large lake fed by springs with a steady outflow of water that could operate a water wheel to produce compressed air; a large supply of limestone that could be dug out of the hills at Lime Rock, midway between Cornwall and Salisbury; hills covered with hardwood trees which could be harvested to make charcoal; and finally, Ore Hill itself, with its fabulous lode of high quality iron ore.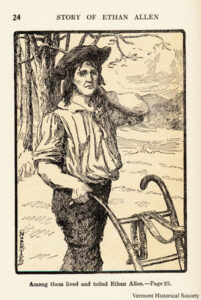 Ethan fortunately met a man with a similar desire, Paul Hazeltine, who with his father and brothers operated several iron works in Eastern Massachusetts. Paul's father, John, on hearing of the potential in Salisbury, committed himself to build a blast furnace if the necessary property and mineral rights could be obtained. Ethan promptly took care of this, working with the Forbes brothers, and in January 1762 the four men entered into a partnership to construct the furnace. For his contribution in making the arrangements and his continuing tie to the operation, Ethan received a one-eighth interest in the furnace.
Soon the furnace was in full operation, with a large crew of local workmen under Allen's direction, producing potash kettles, pig iron and other needed products. (A section of one of the pieces of pig iron produced by Ethan Allen in 1764 was recently discovered buried not far from the furnace site, and is now on display in the Salisbury Cannon Museum.) The furnace continued in operation for over eighty years, until the year 1844, when it was torn down to make way for a factory producing pocket knives. During the American Revolution the furnace was operated by the Connecticut Committee on Safety to produce over 800 iron cannons. It was a major industrial installation for its time. Before long the section of Salisbury where the furnace was located became known as "Furnace Village", a name which remained until 1846, when it was changed to Lakeville.
In 1765, Ethan Allen sold his interest in the Salisbury Furnace and invested in a lead mine in Northampton, Massachusetts. When that enterprise proved unsuccessful, he returned to Salisbury where he learned of land speculation opportunities further north in Vermont. Acquisition of Vermont land soon led to his becoming commander of the voluntary militia – the "Green Mountain Boys" – created to fight off rival land claimants coming over from New York.