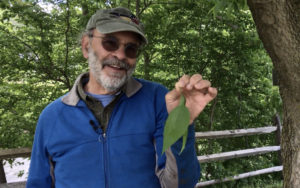 The Housatonic River Walk offers pristine riverfront access in a closely populated village setting in downtown Great Barrington, MA. Conservation of the River Walk has helped preserve the sensitive ecology of riparian areas, so they can remain forever wild and yet publicly accessible.
Since 1988, more than 2,900 volunteers have helped with clean-up, construction and maintenance. They have removed more than 400 tons of debris, helped build the trail and planted thousands of native plants. Approximately 12,000 residents and tourists visit this popular downtown site yearly, to observe simple methods of natural resource protection. The Walk features native plant vegetative buffers, invasive-exotic plant control, bio-engineered riparian stabilization, local non-toxic trail materials, and non-point source pollution controls with rain gardens, and permeable trail surfaces. This site also provides a Great Barrington drop-in for kayakers and canoeists heading south on the Housatonic River.
Housatonic Heritage and River Walk stewards have collaborated to interpret important stories along the path: the William Stanley Overlook ( near the site of the nation's first commercial AC electricity) and W.E.B. Du Bois River Park, dedicated to the world-renowned civil rights leader.
The trail is cared for by Greenagers, a local youth organization dedicated to land stewardship.
Enjoy these virtual tours of the Housatonic River Walk in Great Barrington with Russ Cohen, author of Wild Plants I Have Known…and Eaten. Russ focuses on native plants with ecological value to birds and pollinators that people can nibble on too.
Once you've become oriented with Russ, take a walk yourself along this Housatonic River Walk,  a National Recreation Trail that is located adjacent to Main Street in Great Barrington, MA. The path offers a rare view of the river and its wildlife.