Catherine Roraback Defends the "Dissenters and Dispossessed"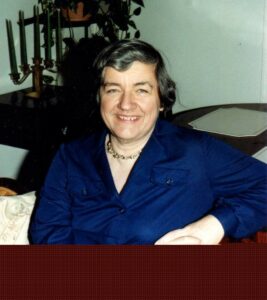 Phone in hand, Catherine Roraback took a moment to consider Fowler Harper's plan. He had just asked if she would defend Estelle Griswold and Lee Buxton as they challenged Connecticut's birth control restrictions. "Are you asking me as a single woman or as a lawyer?" She finally responded. Harper broke into a fit of laughter before Roraback stated, "if you're asking me as a lawyer, I'd be happy to." This conversation ultimately resulted in the lawyer's most famous case: Griswold v. Connecticut. Yet the influence of North Canaan's famed lawyer extended beyond this trial. Through her many accomplishments, Catherine Roraback repeatedly defended the "dissenters and dispossessed."
Roraback was born in 1920 and raised in Brooklyn, New York. Her family had lengthy ties to the legal profession and to the town of North Canaan, Connecticut. Her grandfather began his firm on 115 Main Street in 1873. Roraback inherited it from her uncle in 1955. This building served as her base of operations.
After receiving Fowler Harper's phone call, Roraback sprung into action. Griswold and Buxton planned to challenge the Barnum Act of 1879. This ruling banned birth control and other "obscene" materials. The duo challenged this law by starting their own birth control clinic. It was promptly shut down and investigated while authorities arrested Buxton and Griswold. Connecticut's Superior Court declared them guilty, but Roraback and her defendants appealed to the U.S. Supreme Court. On June 7, 1965, the court ruled that Connecticut's Barnum Act violated the First Amendment. As such, Griswold v. Connecticut legalized birth control for married couples and determined that all U.S. citizens have a right to privacy.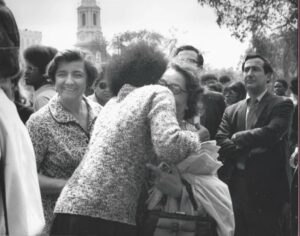 Roraback later defended Civil Rights activist Ericka Huggins in the New Haven Black Panther Trials. She stood accused of torturing and killing Alex Rackley, a suspected spy. Huggins felt intimidated by the male-dominated courtroom. This caused Roraback to take a second glance at their surroundings. The lawyer recalled that she "realized the court reporters were men, the clerks were men, the sheriffs were men, the Judge was a man, the prosecutor was a man, most of the other lawyers were men." Yet Roraback and Huggins used this to their advantage. After being repeatedly talked over, Huggins stated, "Well, you see, it's very hard, first of all, for a woman to be heard by men." The case was deemed a mistrial, and Huggins was freed. Through this case, Roraback made a powerful statement about gender equality within the courtroom.
Roraback's career involved several other important cases, including Women v. Connecticut and Peter Reilly's murder trial. Over her long career, she served as President of the National Lawyers Guild. Roraback also acted as Planned Parenthood of Connecticut's legal counsel. She also won a plethora of awards and distinctions for her activism. Roraback continued working until her death in 2007 at the age of 87. Through her sense of justice and legal expertise, she challenged society and changed the legal system.
More inspiring 'American Stories' from the Upper Housatonic Valley National Heritage Area are at: https://housatonicheritage.org/american-stories.