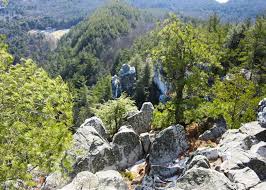 Monument Mountain Reservation – Gt. Barrington, Mass
Ascend this popular peak, which once drew 19th-century literary giants, and from its summit gaze across the spectacular landscapes of the Housatonic River Valley.  What makes Monument Mountain a Special Place?  We think it's the memorable views of the southern Berkshires and the broad Housatonic River Valley awaiting you from the summit.
From the 1,642-foot summit of Squaw Peak, you'll enjoy views as far north as Mount Greylock, near the Vermont border, and, in the western distance, the Catskills of New York. Hawks (and even the occasional bald eagle) soar gracefully above the serene Housatonic River Valley spreading below.
Understand that wet weather can make for some slippery footing. Be especially cautious on the ledges; keep an eye on children and pets.  Please note that the parking lot is not plowed in winter.
Trails–The trails offer several "loop" options, none longer than three miles.
•The 1.5-mile Indian Monument Trail brings hikers past more than 300 years of history – the remains of ancient Native American trails, stone walls of former sheep pastures, woods roads, cart paths that brought hemlock bark to tanneries, hearths of charcoal makers, horse-and-carriage pleasure roads, recreational foot paths, and roads traveled by Ford Model T's.
Route 7 Great Barrington, MA 01230
Longitude
-73.27818709999997