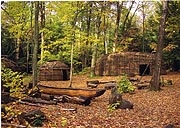 Institute for American Indian Studies – Washington, Conn
Institute for American Indian Studies….38 Curtis Rd., Washington, CT
Edmund K. 'Ned' Swigart, an instructor at the Gunnery School, led the Wappinger Chapter of the Connecticut Archaeological Society from 1966 to 1970 with a focus on the Kirby Brook Site digs. In 1971, the chapter was incorporated as the Shepaug Valley Archaeological Society. With their collections growing and no place to exhibit them, co-founders Ned Swigart and Sidney Hessel began a capital campaign to raise monies and the American Indian Archaeological Institute was born.
The focus of the Institute has always been stewardship and preservation. In 1991, the name was changed and we became the Institute for American Indian Studies. With the name change there was a shift in focus to include education in conjunction with research. The Longhouse Classroom was renovated in 1994 to include a mural depicting early village life and our outdoor replicated village was moved and rebuilt on its current site in early 1997.
The Research and Collections building, houses a state of the art climate controlled storage facility, laboratory, research and education libraries (open by appointment only) and conference hall.
Today the Institute is thriving with approximately 15,000 school children visiting each school year, summer day camps and various workshops, lectures and exhibits – all celebrating Native American Culture. Public-oriented archaeology programs have been reinstituted, and our museum gift shop is fully stocked with craft items, jewelry and art from across Native America.
38 Curtis Road Washington, CT