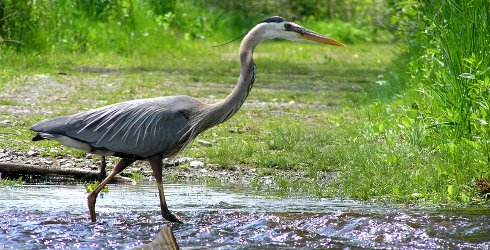 Hollenbeck Preserve – The Nature Conservancy – Falls Village, Conn
A flat trail through the fields leads directly to the Hollenbeck River. Hunt for grassland birds in the fields or look for wildflowers in the spring. The site provides habitat for several rare plant and animal species, as well as a significant part of the Hollenbeck River's watershed. This river runs through Robbins Swamp, one of the most important conservation areas in the state, and eventually feeds the Housatonic River. The Hollenbeck Preserve also provides habitat for some of Connecticut's declining grassland bird species.
This 182-acre property contains a swamp wooded with a mix of red maple, black ash, white pine and hemlock trees to the north and west and open fields to the south and east. Look for wildflowers in the spring. In the summer, look for grassland birds such as bobolink and meadowlarks in the fields near the trail.
Please enjoy your visit to this preserve. The Nature Conservancy welcomes passive recreation, including hiking, birding, canoeing, nature study and cross-country skiing.
To ensure those who visit after you are able to enjoy the same experience you have, please remember to stay on designated trails, pack out everything you brought in, and contact our office at: 203 568 6270 or ct@tnc.org if you notice any problems.
To maintain the ecological integrity of the preserve, the following activities are not allowed: collection of plant or animal specimens, camping, fires, fishing, hunting, bicycling, and use of motorized vehicles. Pets are not allowed on Nature Conservancy preserves.
Directions from Eastern or Western Connecticut…
•Take Interstate 84 to Route 8 north in Waterbury.
•Proceed north to exit 44 in Torrington for Route 4 west.
•Drive 6.4 miles on Route 4 to Route 63 in Goshen. Turn right (north) on 63.
•Drive north on Route 63 for 11.3 miles to intersection with Route 7 in South Canaan.
•Turn left (south) on Route 7.
•Drive 0.5 mile and turn right onto Page Road. The preserve is 0.1 mile on the right.
From the Northwest/Lakeville area…
•Take Route 112 east to Route 7.
•Go left onto Route 7 north.
•Turn left onto Page Road.
•The preserve is 0.1 mile on the right.
From the South/New Milford area…
•Take Route 7 north, check odometer at intersection with Route 112 in Salisbury.
•Drive 2.5 miles and turn left onto Page Road.
•The preserve is 0.1 mile on the right.
Page Road Falls Village, CT
Longitude
-73.35162109999999