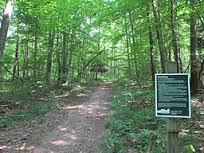 Questing Reservation – New Marlborough, MA
Visit a landscape of returning forest and wetlands, and remnant cellar holes and stone walls that recall a long-abandoned settlement dating to early Colonial times.
What makes Questing a special place? Located on the flanks of Leffingwell Hill, Questing features 438 acres of transitional hardwood.
Trails
2 miles of moderate hiking