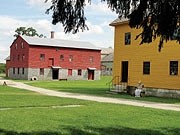 Hancock Shaker Village – Hancock, MA
About The Museum—The Village today consists of 18 historic buildings set amongst farm, field, meadow and woodland, and a collection of 22,200 objects. The Hancock Shaker Village is a designated National Historic Landmark. National Historic Landmarks are nationally significant historic places designated by the Secretary of the Interior because they possess exceptional value or quality in illustrating or interpreting the heritage of the United States. Fewer than 2,500 historic places in the U.S. bear this national distinction !
Each year visitors from around the world come to the Village to experience the City of Peace, participate in programs, view the Village's premier collection, and learn about Shaker life.The high quality of museum standards maintained by the Village is evidenced through its accreditation by the American Association of Museums. The Village is rated three stars by the Michelin Guide, a consistent Editor's Pick by Yankee Magazine's Travel Guide to New England, a AAA Gem, and has been selected as "Best of the Road" by Rand McNally.
History–The Shakers are a religious order which believed in pacifism, celibacy, and communal living. Worship could take the form of singing and ecstatic dance, which is why they were called the "Shaking Quakers," or "Shakers." The utopian sect is renowned today for its plain architecture and furniture.
The Hancock community was started in 1783 with the consolidation of land donated by converted farmers. Land acquisition and conversion continued for decades, with the acreage peaking at 3,000 and the population rising to over 300. It was the third of nineteen major Shaker villages established between 1783 and 1836 in New York, New England, Kentucky, Ohio and Indiana under the leadership of Joseph Meacham and Lucy Wright.
1843 West Housatonic St. Pittsfield MA, 01201
Longitude
-73.33977379999999