Ways to enjoy the Housatonic River
Come explore the special places of the Housatonic River with the official Paddle Guide…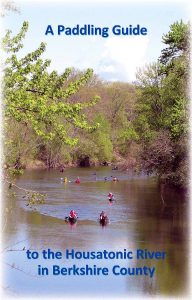 From its headwaters north of Pittsfield, Massachusetts, south to Kent, Connecticut. Enjoy riverfront walks through forested hillsides, a quiet float along meandering flat water, or the heady rush of world class rapids.
Quaint New England villages dot your journey, full of history and surrounded by spectacular natural beauty. Writers, artists and vacationers alike are drawn to the region from all over the world. Visit the historic home of Herman Melville, or stroll through the Norman Rockwell or Sloane Stanley museums. Find your welcome here – the Head of the Housatonic River valley in southwestern New England.
Seeking a more comprehensive guide to paddling the Housatonic River?  Download a copy of the Housatonic River Paddling Guide:
Want more information abut the Housatonic River?
The Housatonic Valley Association
P.O. Box 28, 150 Kent Road
Cornwall Bridge, CT 06754
860-672-6678
Email: conn@hvatoday.org
HVA–Housatonic Valley Assoc.  Berkshire Office
Email: mass@hvatoday.org
14 Merwin Street, PO Box 496
Stockbridge, MA 01262
413-298-7024