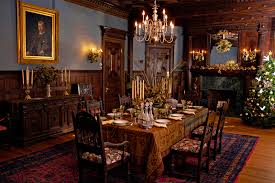 Ventfort Hall Mansion & Gilded Age Museum – Lenox, MA
Ventfort Hall is an imposing Elizabethan-style mansion built in 1893 for Sarah Morgan, the sister of J. P. Morgan. Designed by the architects Rotch & Tilden, it is located in Lenox, Massachusetts.
The town of Lenox was the center of the social season in the Berkshires during the Gilded Age, the period between the Civil War and the First World War. Drawn to the Berkshires by artists and writers such as Nathaniel Hawthorne, Herman Melville, Catherine Sedgwick, Fanny Kemble and Henry Wadsworth Longfellow who had settled here early in the 19th century, as well as the beautiful countryside and scenic views of mountains and lakes, many prominent financiers and industrialists constructed luxurious and imposing summer homes in Lenox and the surrounding area.
Ventfort Hall was one of the approximately seventy-five so-called "Cottages" built in Lenox in the last century when the village became a popular Gilded Age resort. Located on spacious grounds in the heart of the village, we are continuing its restoration, with the first floor completely open to the public along with many of the rooms on the second floor.
Through lectures, exhibits, theatrical performances and other events, The Museum of the Gilded Age interprets the great changes that occurred in American life, industry, and society during the 19th Century, a fascinating period of American history.
Described at the time of its completion as "one of the most beautiful places in Lenox," the house had "28 rooms, including 15 bedrooms, 13 bathrooms and 17 fireplaces." Typical of the period, the interior features a soaring three-story great hall and staircase with wood paneling detailing.
Listed on the National Register of Historic Places, and declared an official project of "Save America's Treasures", a Millennium Program of Hillary Rodham Clinton and the National Trust for Historic Preservation, Ventfort Hall is the home of The Museum of the Gilded Age.
104 Walker Street Lenox, MA 01240
Longitude
-73.28000759999998