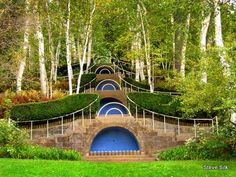 Naumkeag Museum and Gardens – Stockbridge, MA
One of the Berkshires' original gilded-age "cottages", Naumkeag is famous for its eight acres of terraced gardens and landscaped grounds surrounded by forty acres of woodland, meadow, and pasture that stretch to the Housatonic River Valley. The gardens and landscaped grounds, first designed in the late 1880s by Nathan Barrett, were transformed and expanded between 1926 and 1956 by Fletcher Steele and Mabel Choate.
Naumkeag is a designated National Historic Landmark. National Historic Landmarks are nationally significant historic places designated by the Secretary of the Interior because they possess exceptional value or quality in illustrating or interpreting the heritage of the United States. Fewer than 2,500 historic places in the U.S. bear this national distinction !
Separate garden rooms in the house include the Afternoon Garden, Tree Peony Terrace, Rose Garden, Evergreen Garden, Chinese Garden, Arborvitae Walk, and Linden Walk. Perhaps the most famous feature of the landscape is Steele's Blue Steps, a series of deep blue fountain pools flanked by four flights of stairs climbing up a gentle hillside and overhung by birch trees.
15 Prospect Hill Road Stockbridge, MA 01262