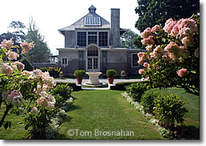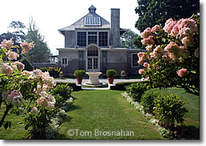 Chesterwood, Home of Daniel Chester French – Stockbridge, MA
Chesterwood is the country home, studio and gardens of Daniel Chester French (1850-1931) – sculptor of the statue of Abraham Lincoln in the Memorial in Washington, DC, and The Minute Man, Concord, MA.
Chesterwood is a designated National Historic Landmark. National Historic Landmarks are nationally significant historic places designated by the Secretary of the Interior because they possess exceptional value or quality in illustrating or interpreting the heritage of the United States. Fewer than 2,500 historic places in the U.S. bear this national distinction !
The buildings are furnished with American and European decorative arts and paintings collected by the sculptor. Woodland walks featuring mountain vistas and perennial gardens are French's own design.
The Studio has a standard-gauge railroad track used to roll large sculpture outdoors for viewing in natural light. The museum holds what is probably the largest single collection of work by any American sculptor.
4 Williamsville Road Stockbridge, MA 01262-0827