We also have a separate website for the Paper Trail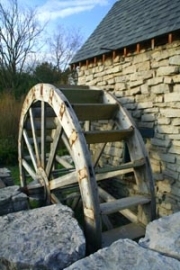 www.paperheritage.org
---
Paper Making for Teachers, Laurie Shelton, instructor
Area tea
chers  had an opportunity to learn the basics of hand papermaking in a workshop designed especially for them, on October 22, 2011, in Dalton, Mass. The workshop was part of a conference of the Friends of Dard Hunter, an international group of hand made paper enthusiasts.
The workshop was designed for teachers and others who work with students of all ages. Lauren Shelton, a Vermont educator, presented a lecture with slides and a video called "The Power of Papermaking."  The lecture was followed by hands-on workshops where participants prepared pulp, formed sheets of paper, and made simple books, collages, and other things with handmade paper.
More information about the conference and related Pittsfield events, all being hosted by Crane & Company in Dalton, is here: http://www.friendsofdardhunter.org/northeast_schedule.html
A cosponsor of this workshop for teachers was Housatonic Heritage. More information about its educational and industrial heritage programs can be found on its site: www.housatonicheritage.org,
For more information, e-mail: history@housatonicheritage.org
---
Celebrate September 16 – Oct 2, 2010 – Housatonic Paper Trail & 3rd Thursday Launch Events
Opening Reception: "Paper Work" September 16,  (featuring a brief historical overview of the Housatonic Paper Trail by Crane & Co.historian Peter Hopkins.
Lichtenstein Center for the Arts
28 Renne Avenue, Pittsfield, MA
A group show featured work by contemporary regional artists, an animated video about the region's paper industry and clips from "Paper Town," a new documentary film about the paper mills of Lee, Mass.
2010 Opening Reception: "Paper Workers" September 16
Paper Workers
Storefront Artists Project
124 Fenn Street Pittsfield MA
Portraits by photographer Bill Wright of local men and women who worked in the paper mills of the Upper Housatonic region.
Berkshire Museum
39 South Street, Pittsfield
Two installations celebrated the paper industry: Henry Klimowicz's Paper and Light, constructed from discarded cardboard, and historical artifacts from the museum and the Crane Museum of Papermaking
---
The Paper Trail (Paper Heritage Trail) has been created to preserve, interpret and share the history of fine papermaking in the Upper Housatonic River valley through archival ephemera, interpretive projects, brochures and digital sources (website, blog, etc.). Further, this project seeks to promote historic and contemporary sites in a "paper heritage trail" that provides a theme-based series of physical sites, exhibits, events and information to allow people to understand and appreciate the significance of this industry to the upper Housatonic River valley region..
Background topics include:
The beginnings and of history of papermaking in the Upper Housatonic River Valley
Role of geography and location
Natural resources
Water power
Manpower
Significant details about papermaking in the region:
Important papermaking sites
Noteworthy people / families
Innovations pioneered
Evolution of the industry
National significance of regional papermaking industry
Contemporary condition of the industry
Interpretive Projects May Include:
Educational

Interactive papermaking workshops
Curriculum development for local schools
Field trips from local schools

Tourism

Visitors Guide
Paper Trail brochure and map

Artistic

Creative events – papermaking exercises, paper boat challenge
Exhibits of unique designs