Biking Routes in the Upper Housatonic Valley
The Upper Housatonic Valley (portions of Litchfield County, CT and Berkshire County, MA) is ideal for bike riding.
Housatonic Covered Bridge Trail (HouBike Trail) is a 45-mile segment of country road cycling between Kent, CT and Sheffield, MA.  This scenic route follows mostly riverside roads along the Housatonic River.  A brochure and map is available at town halls, libraries and other public places throughout the region. Or call / email us for a copy!  See more details on our Bicycle Routes Page.
Visit www.HouBikeWalk.org for a complete list. For your convenience we've added these bike routes for convenient downloading. The 45-mile HouBike Trail is divided into 10 segments so that you can easily download just the segment(s) that you'd like. Each PDF map will print nicely on an 8.5 x 11 sheet of paper.
The Western New England Greenway
The Western New England Greenway (also know as U.S. Bicycle Route 7) is a multi-segment, multi-state bike route that links NYC and Montreal. This road cycling route connects with the East Coast Greenway in Norwalk, CT, and connects with Quebec's famed Route Verte at the Canadian border, just above Burlington, VT.
Most of the Western New England Greenway / Bikeway is along existing low-volume, low-speed roads. There are many miles of dedicated bike paths, but – for the most part – this is a 'road route' through CT, MA and VT.
Berkshire County Bike Routes
There are numerous excellent cycling routes in Berkshire County – and we've mapped out several for your enjoyment!  Visit our Bicycle Routes Page for maps and brochure, plus GPS files.
The Berkshire Bike Path Council continues working to promote the establishment of a Vermont to Connecticut multi-use recreational path of approximately 75 miles. The border to border trail will utilize railway corridors and related off-road bike paths where possible along with on-road bike lanes.
Kent, CT Bicycle Routes – Great bicycling for all generations, with a choice of five separate loops.  Visit our Bicycle Routes Page for maps.
Salisbury & Sharon, CT Bicycle Routes – four excellent biking loops around these small towns.  Visit our Bicycle Routes Page for maps
---
Objectives of the CT portion of the regional trail system:
The Bikeway Project proposes to link existing river roads next to or near the Housatonic to produce a continuous 45-mile multi-use biking and hiking route from Mass/CT border to the center of New Milford. The proposed Housatonic Bikeway route includes approximately 35 miles of existing publicly maintained paved and dirt roads directly adjacent to the Housatonic. The additional 10 miles will initially be on roads that are not adjacent to the Housatonic.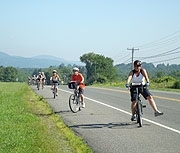 The project will propose the best minimum impact options for moving those 10 miles to locations adjacent to the Housatonic. No land or rights of way need to be acquired. The lands that would be used for all possible options for moving the Cornwall and Kent sections closer to the River are already in State or Federal ownership.
Restore and enhance the recreational values and services of the Housatonic River damaged by pollution through a multi-use Housatonic Bikeway linking existing river roads from Salisbury to New Milford and creating sustainable recreation with minimum physical impact.
Increase, improve and promote opportunities for river related recreation through outreach program including Interpretive Signage, Maps, Brochures, Website, Podcast.
Immediate planning objectives:
Develop and implement comprehensive Public Outreach and Marketing to build public awareness and support for Bikeway
Create Interactive GIS Bikeway Map integrating varied recreational opportunities along Housatonic River corridor.
Create safety plan, produce and install directional markers for Bikeway
Create, produce and install approximately 12 Interpretive Signs containing natural resource, historical and stewardship information specific to each site along the Bikeway.
Create Housatonic River Bikeway Website with maps, calendar of river events and links to all participating groups as appropriate.
Create downloadable Podcast audio tour of Bikeway
Develop plan for best future locations of off-river bikeway sections in Cornwall and Kent
Develop sustainable Bikeway Monitor Program
Design and implement Opening Events for Bikeway.
View the complete Project Narrative. (PDF 265kB)
Current program supporters include: