History Alliance: A Catalyst For Sharing Our Heritage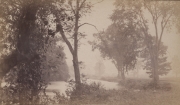 Click here for the History Alliance website: www.housatonichistory.org
The history keepers
We often take them for granted. While they sort through boxes of old papers and donated textiles, research the tools, maps, and architecture from our past, or try to learn about the provenance of a painting or a piece of furniture, hoping to see another clue to a little known story or ferret out the beginning of a new one, they usually do so without a lot of fanfare.
They organize exhibitions, hoping to give us a look at what they have and what they do. Behind the scenes they work, with new technology and in time-honored ways, to preserve their collections and archives so that future generations will have what they need to understand their past, and to help us to make sense of our present.
They work so that we can piece together this little part of our town's history or that part of our story.
The historical societies, history organizations, and museums up and down the Heritage Area form a chain along the river, often holding pieces to each other's stories.
Sometimes these organizations are run completely by volunteers; other times, they are mostly paid professional staff; and sometimes a combination of staff and a corps of volunteers do the work. Regardless of size and funding, they are all dedicated to keeping and interpreting our stories.
The Housatonic Heritage Area hopes become a conduit in that chain, through which the small and large history organizations connect with one another. In the fall of 2009 and spring of 2010, we convened focus groups with history organizations throughout the region to learn about what the Heritage Area could do to help history organizations with their work, and then we organized an advisory group to prioritize our response to what we learned. Through that advisory group, the History Alliance was born. Over the next several months we will work to respond to what we learned that history organizations would like the Housatonic Heritage Area to be: a catalyst and a clearinghouse for history organizations.
Please tell us if you would like your history organization site to be listed on this site, just E-mail info@HousatonicHeritage.org
Please check the Heritage Sites on the upper left side of this page for links to history and other organizations in the Housatonic Heritage Area.
Please check the Events on the right side of this page for history and other organization events in the Heritage Area.
HISTORY ALLIANCE NEWS
History Alliance helps groups with Save Your Collections
Staff members and volunteers from history organizations throughout the Upper Housatonic Valley National Heritage Area took advantage of a two-day training workshop on March 2 and 9.
The workshop, held at the Red Lion Inn in Stockbridge, drew 30 participants from Cornwall to Pittsfield and several towns in between. Williamstown House of Local History staff also participated, as did the Shoreline Trolley Museum in New Haven.
The History Alliance, a project of Housatonic Heritage, organized the program, which was adapted from the New England Museum Association (NEMA) Primer: Save Your Collections.
Presenters included Elizabeth Shapiro, Sharon Historical Society (on Governance), Barbara Allen, Stockbridge Library Museum & Archives (Collections); Elizabeth Sharpe, Amherst (Community Engagement); Lise Dubé Scherr, The Mount (Education and Public Programs); Rachel Fletcher, African American Heritage Trail (Events).
Three people with extensive volunteer experience, Mary Philpott of Lee, Carlton Dodge of Dalton, and Terry Wise of Stockbridge, talked with the group about what it takes to attract volunteers. Gene Wenner, who teaches in the Berkshire Community College Non profit Management Program, talked about budgets and management.
In addition, a local editor (Lesley Ann Beck) discussed public relations, including the art of making a pitch; and Susan Emerson Clapp, a development person who specializes in major gifts at Bard College at Simon's Rock, focused on the relationship part of fundraising.
Mass Humanities Assistant Director and Berkshire Taconic Community Foundation Program Director to present grants information
Great Barrington, MA – The Housatonic Heritage History Alliance will host a session on effective grant writing on Wednesday, Dec. 1, from noon to 1:30., at the Lee Library. Pre-registration is required, but there is no fee.
Representatives from any area history or cultural organization or library may participate in this event, which is being organized by a project of Upper Housatonic Valley National Heritage Area (Housatonic Heritage), the History Alliance. The History Alliance serves as a clearinghouse for history organizations, to help them find appropriate training and funding, and to provide opportunities for them to meet and learn from each other. Housatonic Heritage facilitates collaboration with regional organizations, working as a catalyst for regional thinking.
Pleun Bouricius, Assistant Director of Mass Humanities, and director of its Massachusetts History Program, will speak about their grant programs and funding opportunities in general. Mass Humanities, established in 1974 as the state-based affiliate of the National Endowment for the Humanities (NEH), is a programming and grant-making organization that receives support from the NEH and the Massachusetts Cultural Council as well as private sources. Mass Humanities, which has a local history grant program, supports programs that use history, literature, philosophy, and the other humanities disciplines to enhance and improve civic life throughout the Commonwealth.
Maeve O'Dea, Berkshire Taconic Community Foundation Program Director, and a representative from Housatonic Heritage will also discuss their organizations' grants programs. In addition, print materials and links to information from various funding organizations will be made available.
Participants are invited to bring their lunch to the workshop; beverages and snacks will be provided.
To register, call 413-298-3468 or e-mail: history@housatonicheritage.org
HISTORY ALLIANCE NEWS
October, 2010
HOUSATONIC HERITAGE ANNOUNCES GRANT RECIPIENTS
More than $40 thousand in awards
to help local history organizations
The Upper Housatonic Valley National Heritage Area (Housatonic Heritage) announced the recipients of its 2010 Heritage Partnership Grant Program. Recipients shared $40 thousand in grant awards, and include nonprofit organizations in the Upper Housatonic Valley National Heritage Area, a 29-town region of Northwest Litchfield County (CT) and Berkshire County (MA).
Housatonic Heritage developed this year's program guidelines after hosting a series of focus groups and meetings to determine the most urgent needs of history organizations in the area. Following those focus groups, the Housatonic Heritage History Alliance was formed to support and work with organizations in the region.
The guidelines for the 2010 Heritage Partnership Grants were based on the focus group findings, with particular attention to projects that dealt with the management of collections, staff and volunteer training, and for educational programming and outreach. The maximum grant amount is $5,000, and is being matched by an additional $60 thousand by applicants and project partners.
2010 grant recipients include:
Jacob's Pillow Dance Festival

, Becket, for a project that will make more accessible the Pillow Archives related to the African American Heritage Trail.

Monterey Historical Society and Gould Farm, Monterey

, with Bidwell House as consultant, to organize collections and digitize information on the collections.

The Bidwell House Museum, Monterey

, with local school districts, to develop a "museum in a box" kit for classroom use, and to organize field trips, both tied to Massachusetts curriculum standards.

Samuel Harrison Society, Pittsfield

, will inventory and catalog their collections. The catalogue will be available to the public.

Ventfort Hall, Lenox

, with second grade Lee teacher Jessica Pollard, will develop an experiential educational program for elementary and secondary students, and create a one-day educators retreat.
E

gremont Historical Commission, Egremont

, to create an interactive website which will expand access to digitized data, and to initiate an oral history project.

The Friends of Egremont History, Egremont

, to develop a map of all buildings in Egremont, highlighting surviving historic buildings.

Berkshire County Historical Society, Pittsfield

, with Craneville Elementary School, to create a 19th Century Local History Curriculum compatible with Grade 3 Social Studies Massachusetts Frameworks.

Hancock Shaker Village, Pittsfield

, with Pittsfield public elementary and secondary schools, to create a new curriculum programs for grades K-12 on the innovative architecture and town planning of the Hancock Shaker Village, 1790-1960, tying it to current eco friendly, sustainable planning.

Mass Audubon, Berkshire Wildlife Sanctuaries, Pittsfield and Lenox

. with Morris Elementary School and Berkshire Historical Society/Arrowhead, to develop classroom lessons and field trips about the historical influence of natural resources on wildlife.
HISTORY ALLIANCE NEWS
SEPTEMBER, 2010
BASICS: On October 7, 12 to 1:30 p.m., the Housatonic Heritage History Alliance will host a roundtable discussion with Brent Colley, web designer and Sharon Historical board member. The topic: BASICS: Using new and social media to reach your audiences. Brent will lead an informal discussion. Absolutely no previous knowledge is required to participate – that is the purpose of this event, to help all history organizations with the basics.
Location: Berkshire Community College South County Center, Main St. Gt. Barrington. Housatonic Heritage is underwriting this event, so it is free of charge to history organizations. Just bring a lunch (and your questions if you have them) and enjoy. By the way, if you have ideas, bring those too! Please call if you plan to come; space is somewhat limited and I will try to move the venue if necessary: 413-298-3468.
Other BASICS events will follow, including one on Fundraising, and a third BASICS roundtable on Connecting with Local Schools via their curriculum requirements. I will announce dates and leaders of those events within a week or two.
From CLHO
Liz Shapiro, Sharon Historical Society Executive Director is also working as interim director of the Connecticut League of History Organizations. As always, they are sponsoring interesting events this fall. Here is a link to their news:
http://www.clho.org/
An idea for collaboration
Bob Salerno of the West Stockbridge Historical Society is looking for historical organization folks who may be interested in sharing a booth at the upcoming Berkshire Botanical Garden Harvest Festival, October 2. His e-mail address: resalerno@mindspring.com
Here is a link to a recent Boston Globe article about collections:
http://www.boston.com/ae/theater_arts/articles/2010/08/21/historic_collections_meet_the_21st_century/
Research Inventory Grant Consultation Deadline At Mass Humanities
Looking for up to $1,500 to inventory part of your collection for a research project, exhibit, or program? Mass Humanities has announced a Research Inventory Grant (RIG). Contact the Local History Coordinator by October 1 to discuss your proposed project. Mass Humanities will not accept applications that have not been discussed prior to submission. Applications are due on November 1.
Mass Humanities has a new thematic initiative, Crisis, Community, and Civic Culture. RIG projects that respond to the initiative will receive special consideration. Please note that the maximum award for a RIG project is $1,500.
General information about the RIG and SIR programs are available on the Mass Humanities website
You can contact Local History Coordinator Patty Bruttomesso at localhistory@masshumanities.org or 413-588-1606 for assistance.
HISTORY ALLIANCE NEWS
AUGUST 2010
NEMA PRIMER: SAVE YOUR COLLECTIONS!
Housatonic Heritage is entering into an agreement with the New England Museum Association through which we will offer the popular SAVE YOUR COLLECTIONS PRIMER.
We will offer the two day workshop series in late February or early March, and we will notify all history organizations that we have listed in our e-mail database. In order to receive this and other related news, please contact us: judithmonachina@verizon.net
Also, mark your calendar: The NEMA 2010 conference will be held in Springfield, Mass., November 3-5.