Greenagers and Cultural Landscapes in Berkshire County
About Greenagers
Through its paid employment programs, internships and apprenticeships, engages teens and young adults in meaningful work in environmental conservation, sustainable farming and natural resource management. In the Berkshires and nearby New York State, our trail crews maintain existing trails and build new trails for the Appalachian Trail Conservancy, Trustees of Reservations, Columbia Land Conservancy and other conservation organizations. Our Farm Apprentices work with local farmers, learning animal husbandry and organic agriculture. Our volunteer teams install front-yard gardens for area families, to encourage home-based food growing.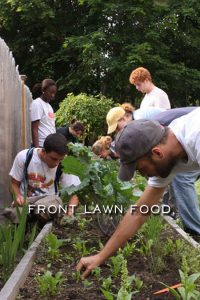 About the 2018 Program: Greenagers and Cultural Landscapes
Through the heat, humidity, thunderstorms, and lightning 25 youth, ages 15-20, worked to rebuild stonewalls, cut and clear trails, and construct bog bridges on some of the premier cultural sites in Berkshire County, MA. It was not an easy summer to work in the out of doors, the heat index regularly climbed above 90 degrees and when it was cooler, torrential rains resulted in flood advisory warnings. Despite this, local teenagers got the opportunity to work on local properties, developing a sense of place, a sense of identity, and a better understanding of what makes their home unique.
At Jacob's Pillow, a crew spent five days disassembling and reconstructing a historic stone wall. Massive stones, many hundreds of pounds heavy, were moved and set. What once was a line of rubble was reimagined and reset into an aesthetically pleasing wall that runs along the main road that runs through campus. The crew also had the opportunity to attend an inside/out performance and take an interpretive tour of the facilities and archives.
Neil Rippingale, a master stonemason from Scotland, trained and worked alongside the inaugural Pittsfield crew to rebuild a stone wall around Arrowhead, also known as the Herman Melville House. The crew also received an interpretive tour, learning about the life of Melville, his short but influential voyage in the world of whaling, and his years spent looking north toward Mt.Greylock for inspiration and beauty.
For the third year running, a crew worked on the Ledges Trail at Chesterwood. They sculpted the landscape as Daniel Chester French sculpted marble, building a short but demanding path. The route was a daily climb for French, now the public can walk in his footsteps to a view that captures much of the Housatonic River Valley in southern Berkshire County.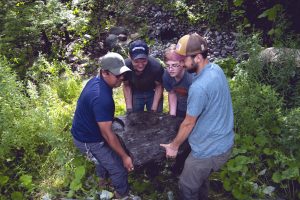 For the first time a crew worked at the Norman Rockwell Museum. Between tours of the museum and the studio, they tended to gardens, controlled invasive species, and trimmed hedges. At times, it looked as if one of Rockwell's illustrations had come to life, young adults were seen smiling or grimacing while working a summer job in a verdant landscape.
The Bidwell House offered the most challenging task, that of rebuilding a retaining wall by the northern garden. Long ago fallen into disrepair, the wall had to be taken apart piece by piece and dug out from behind. For days, the crews toiled to move sod, soil, and stone. Through rain they rallied and ultimately they were rewarded with a five foot tall wall that will last decades.
---
More About Greenagers at Herman Melville's Arrowhead 2018
Déjà vu all over again!  The Upper Housatonic Valley National Heritage Area (Housatonic Heritage) has again collaborated with 'Greenagers' and the Berkshire County Historical Society at Arrowhead (home of author Herman Melville, and where the novel Moby Dick was inspired and written).  For the past two years the partnership has worked to rebuild the historic stone walls that surround the property.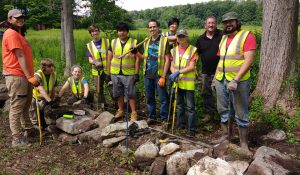 In 2017, 150 feet of stonewall was rebuilt at Arrowhead, with the assistance of Housatonic Heritage and 'Greenagers', a service-learning program that engages youth in meaningful conservation projects.  Then in August 2018, the partners arranged a second engagement to rebuild more stone walls and finish the removal of invasive plants along the wall. One goal of the project was to provide an unobstructed view of Arrowhead's buildings and landscape for the thousands who drive by. Other goals were to help train teenagers in manual skills and provide the teenagers with exposure to local cultural landscapes.
For this second season, the collaborators again engaged master craftsman Neil Rippingale, a Scottish stonemason who instructs crews around the world. These instructional and hands-on sessions were also made available to interested citizens, free of charge.  With training and supervision, the 2018 team of Greenagers rebuilt 165 feet of historic dry-laid stone wall along the north field at Arrowhead. The young crew was also treated to sessions with Arrowhead staff, to learn more about Herman Melville and his farm, Arrowhead.
---
Housatonic Heritage, Greenagers, and a Plan for Expansion to Cultural Landscapes
in 2016, Greenagers expressed an interest to expand the scope and duration of the summer program for the purposes of utilizing excess capacity that currently existed, for the purpose of employing and engaging more teens and young adults.  Short term goals include:
Increase the number of land trusts, parks, public lands, etc. that utilizes / contracts with Greenagers' services
This strategy will allow Greenagers to further utilize existing skill sets and capacities while allowing program participants to work more hours during the season, and to extend the season beyond the current customary dates.  The scenario described here is about finding more locations upon which to perform those same those same duties as Greenagers has customarily done in the past.
Increase and diversify the training (specific hard skills required for the execution of their responsibilities upon the land) that Greenagers receive.
This scenario would rely upon Greenagers leadership (Executive Director and senior staff) to develop new lesson plans, knowledge base and skill sets for participants.  It may require that Greenagers acquire new tools and machinery in order to tackle a new set of environmental stewardship tasks.
This may also involve building the skills of Greenagers leadership, to gain new knowledge and skills that will then be re-taught to Greenagers participants.
Add new cultural landscapes to the list of regularly contracted Greenagers clients
By engaging Greenagers in cultural heritage sites (for instance – Chesterwood, Norman Rockwell Museum, Bidwell House), participants will further utilize existing skill sets for natural resource conservation and management.
It is anticipated that working upon cultural landscapes may invoke a specific, new mode of operation for Greenagers, as these properties frequently contain sensitive cultural / historical artifacts, buildings, outdoor art / interpretive installations, and may be 'open to the public' at such times when resource work is being performed.  This scenario will precipitate the need for new / additional training in sensitivity to cultural landscapes and the people who are likely to care for / visit them.
In addition, Greenagers participants will be provided with cultural / historical context that will aid them in understanding why the landscape is important.  By developing and delivering this heritage context to the Greenagers participants, it is hoped that an even deeper emotional and intellectual connection will be made with the landscape, and that the foundation of life-long stewardship will be formed.
Increase and diversify the interpretive training (communicating the meanings and relationships of our cultural and natural heritage, through the Greenagers involvement with the landscapes upon which they work) that Greenagers receive.
This may occur in a more formal setting (i.e. classroom type setting), or on-site as part of a pre-work orientation.  This additional layer of 'context' will allow the participants to have a deeper understanding of the significance of the landscape, will promote a more intellectual and emotional bond with that landscape, and further enhance the personal connection that is made through their work.
The concept of 'interpretation for teens' requires that cultural heritage sites must rethink how they share and interpret their stories, and adapt that knowledge to a more suitable format (subject matter, story flow, delivery methods, etc.) for younger audiences.  Under this scenario it is incumbent upon the heritage sites to develop interpretive language / topics / materials that are suited to teenagers and young adults, and to deliver this interpretive content in such a manner as to be accessible and engaging for this age group.
Heritage sites will then make this content available to Greenagers leadership, and may choose to provide the heritage content directly to work crews, or may make this content available to Greenagers leadership to be presented at a time when it makes most sense for the work crews.
Diversify the nature of environmental / natural resource conservation work that the Greenagers engage in
Greenagers will be trained to perform natural resource conservation and management tasks not previously included in the programs' educational content / curriculum.
Add new tasks, job descriptions, and heritage site responsibilities to the list of Greenagers' skills
With the addition of new / more cultural heritage sites comes an opportunity to engage teens and young adults in other meaningful conservation work that is not directly linked to natural resources.  Specifically, this concept would create a new 'division' of Greenagers that, while still working within the same family of client organizations, would provide non-physical jobs as docents, interpreters and heritage ambassadors.