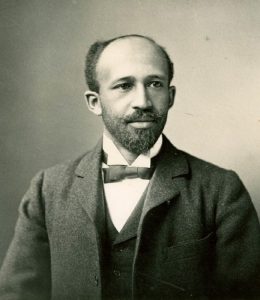 The W.E.B. Du Bois Educational Series at Great Barrington is presented in partnership with the Berkshire Hills Regional School District for its second year. The series, launched April 2016, was inaugurated by scholar and Pulitzer Prize winning Du Bois biographer David Levering Lewis.  The upcoming program features four events during the 2016-2017 school year.  All events are free to the public and will take place in the Monument Mountain Regional High School Auditorium.
The series honors Du Bois, recognized as the "premier architect of the civil rights movement in America," who was born and raised in Great Barrington, graduating from Great Barrington High School in 1884. In the spirit of Du Bois, the series is intended to heighten awareness of racism, modern slavery, gender and economic inequality and other injustices. The series' programs and forums are intended to engage and inspire students and others through real-life focused, interactive presentations using a variety of mediums, including lecture, film, and music.
Upcoming
The W.E.B. Du Bois Educational Series Presents:
Du Bois – 150th Birthday Celebration – Friday, February 23rd at 7pm

Join us at the Mahaiwe Theater for a celebration of the 150th anniversary of the birth of our native son W.E.B. Du Bois, the "architect of the civil rights movement" who continues to inspire the fight for human rights around the globe today. The event will take place on Du Bois' birthday, February 23rd, and feature a keynote presentation by noted Du Bois scholar Dr. Reiland Rabaka of the University of Colorado.

Enjoy music and conversation with acclaimed blues musician Guy Davis, son of civil rights activists and Du Bois friends Ossie Davis and Ruby Dee.

It will also include a short film of the 1969 Dedication of the Du Bois Boyhood Homesite in Great Barrington, featuring Ossie Davis and Julian Bond, a spoken word performance by the Du Bois Youth Ensemble directed by Ted Thomas and a dance piece choreographed to the Alicia Keys song "We are Here" and performed by the teen and adult dance companies of MAX.

The event will be emceed by Dr. Whitney Battle Baptiste, Director of the UMass Du Bois Center.
Co-sponsored by Upper Housatonic Valley National Heritage Area.
---
The planning committee for the series this year includes Ted Thomas as well as Du Bois Center at Great Barrington Director Randy Weinstein, Berkshire Hills Regional School District Superintendent Peter Dillon, Monument Mountain Regional High School Principal Marianne Young, NAACP-Berkshire County Branch President Dennis Powell and member Tommie Hutto-Blake (also a member of the Berkshire Human Rights Series), U Mass Du Bois Center Director of Development & Communications Carol Connare, Multicultural BRIDGE staff member Jeff Lowenstein, and parent John Horan, who coordinates the planning committee.  The City of Pittsfield Schools will be partnering with the Series this year with Cultural Proficiency Coach Shirley Edgerton coordinating its student participation.